Folk Radio's Top 50 of 2014
The list is out and 'North Star' was the #45 most played CD of  the year on Folk Radio, landing on a good few 'best of 2014' lists. With releases in the UK and Europe yet to come. To see the chart in its entirety click here! 

Video of the Week on the 'Bluegrass Situation'
The 'North Star' music video was selected as the 'video of the week' on the U.S.'s premiere roots website 'The Bluegrass Situation'. To read a bit on the background of the song, and see the premiere–click here!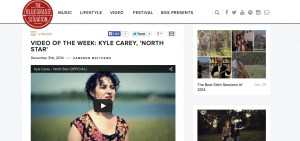 Four Star Review from Maverick Magazine
'North Star' has received a glowing four-star review from the UK's premiere country music and roots print magazine-Maverick. To read the review in full click on the 'press' page and scroll down on 'praise' for 'North Star'.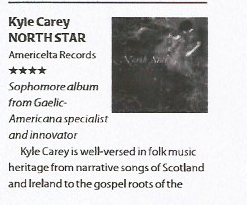 Allegheny Mountain Radio Interview
Kyle recently spoke with Allegheny Mountain Radio reporter Kelly Taber about the influence of West Virginia poet Louise McNeill in her songwriting. To hear Kyle's interview in its entirety and to learn a bit more about Louise McNeill, click here.

Music Video Launch
Kyle's first official music video premiered on Folk Radio UK on Dec. 1st to a very warm reception. The featured song on the video, Kyle's title track 'North Star', was also selected as FRUK's 'Song of the Day'. To check out the premiere click here!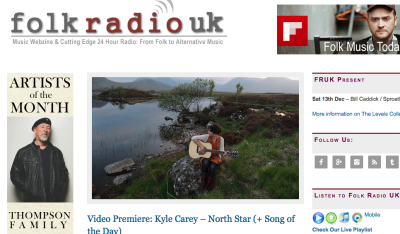 Folk Radio UK Video Premiere
On December 1st 'Folk Radio UK', the UK's premiere folk website will be premiering Kyle's music video of 'North Star'. Here's a screen shot sneak-preview. Be sure to check 'Folk Radio UK' the day of to see it in its entirety!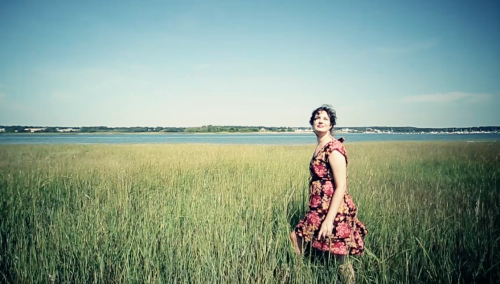 2016 Tour with Joy Dunlop and Gillebride MacMillan
Still in early planning stages, Kyle will be joining renowned Gaelic singer and step dancer Joy Dunlop, and –the equally renowned Gillebride MacMillan of South Uist for a tour of Arts Centers and small theaters in the US in early April of 2016. Stay tuned for more details!

'Cairistiona' selected for the 'Rough Guide to Gaelic Music'
The 'World Music Network' who works in tandem with the 'Rough Guide' travel books has selected Kyle's version of 'Cairistiona' or 'Christina' to appear on their 'Rough Guide to Gaelic Music' compilation–due out next spring. To learn more about the World Music Network and their 'Rough Guide' compilations, click here!

Cape Breton fiddler Rachel Davis joins European Tour
Fresh off the road from a Canadian maritimes 'Home Routes' tour together, Rachel Davis will be joining Kyle once again, this time in the Netherlands, Belgium and Germany for a string of shows in March, rounding out a trio with multi-instrumentalist Ron Janssen. One of Cape Breton's premiere young fiddlers, Rachel is 1/5 of the traditional group 'Còig'–who recently won a Music Nova Scotia award for 'best album'. To read more about Rachel and Còig, click here!

'North Star' #7 on September Folk DJ Charts
Wonderful news–'North Star' charted at #7  on the Folk DJ charts for September, with Kyle's cover of Kate Wolf's 'Across the Great Divide' coming in as the #14 song. Read more about it here.