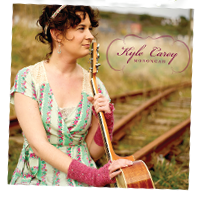 Kyle's debut release Monongah received a remarkable amount of critical acclaim and press from both sides of the Atlantic. Kyle's reviews for Monongah have been compiled below. We appreciate all the kind words and praise!

"American songster Kyle Carey's self-release "Monongah" which blends Appalachian, light gospel, and Celtic folk sounds refreshing with its compelling stories. Carey has talent to burn as a songwriter, and a mature, clear voice in which to deliver her stories—more or less tales with some intriguing characters."
– Patricia Herlevi, World Music Central
"America is no longer young, but it's not ancient, either. In this enchanting song cycle, Carey draws a cry from the collective roots of our nation and seems to span millennia with potent words and a uniquely tender voice"
– Rick Boussard, New Hampshire Magazine
"This is one of the most beautiful albums released in Sweden last year. Kyle's voice has the perfect amount of warmth, with no trace of artificial roughness. Though the lyrics have little to do with her life, the songs are genuine."
– Om Country
"Kyle's songs reveal themselves to be the backdrop of this atmospheric soundscape. These are her stories from the ages set in a modern narrative and it works beautifully. It's an impressive recording of principally Americana with the Gaelic influences that have crept into Kyle's style. It has received recognition and awards in the US and rightly so. Outstanding."
– Tony Lawless, Tradconnect
"Kyle Carey represents an interesting crossroads of Celtic Americana (which she refers to as Gaelic Americana). In her gentle modest way she represents both a well traveled path, but also innovation. Innovation which those who pretend Celtia is either one thing and not another find upsetting. But that is what makes her such a valuable artist. And with a style and craftsmanship that makes her so appealing, even to those such as I who emotionally lean toward the "hard music."
– Art Ketchen, Celtic Beat
"A bit like President Obama, I feel that Ms Carey is a 'nice' person. It's not that I know her personally of course but judging her on the merits of this album I feel that all is right with the world. This could also have something to do with the fact that Lunasa's Donogh Hennessy is sitting in the producer's chair and in company with a guest list of musicians including Trevor Hutchinson (bass), Aoife Clancy (harmony vocals), and the crisply tuneful glissando mandolin of John Kirk this album really is something of a gem. If I said that the recording should be played relentlessly on BBC Radio 2 then I hope that there are enough producers out there to take note to steer the album in the direction of Mike Harding and Aled Jones etc."
– Maverick UK
"Sounds that have the flavor and aromas of a folk autumn, quiet atmosphere with a hundred streams of clear water that intersect and wind into the gurgling and whispering Gaelic-Americana. A beautiful disc! Delightfully charming! ideal for entertaining the soul in the coming cold and dark evenings of late autumn with a good whiskey, or (why not?), a hot tea in hand."
– Claudio Giuliani, Mescalina.it
"Monongah is a particularly captivating subtle folk CD with a special blend of American and Celtic (Scottish / Irish) folk. Beautifully sung and accompanied with a nice variety."
– Fred Schmale, Real Roots Cafe, NL
"Kyle tends to rely on simple backporch textures of mandolin, banjo and bass, to gently cradle her soft-toned yet thoroughly engaging singing voice, and the general style is more akin to latter-day Appalachian folk-country than anything traditional or specifically Celtic. Having said that, on closer listening you'll detect subtleties of projection, phrasing and tone in Kyle's delivery that signify her mastery of Gaelic singing techniques, while at the same time the lyrics of her haunting, well-crafted songs are very much informed by themes such as ancestral longing and intelligently retold American historical narrative. Whatever, the shimmeringly passionate reimagined gospel ballad Let Them Be All and the curiously delicate southern-gothic-styled tale of Adenine provide two standout experiences for this listener but it's fair to say that a spell of true enchantment effortlessly pervades the whole disc."
– David Kidman, Folk and Roots UK
"Finally released in Europe after and album launch in the US and Canada, the debut album from Alaska born and extensively traveled Kyle Carey is, quite simply, a delight. Drawing from both the American and British folk traditions, the songs, including some very fine originals, are beautifully crafted and performed. Her voice is soft and gentle without ever descending into tweeness, and the sparse backing, largely acoustic guitars and fiddles, is haunting and moving. 'Magical' is the mot juste for this album. Assured, confident, charming and irresistible, it sticks to the CD player like glue, as does the finger to the Repeat button."
– Jeremy Searle, R2 UK
"Superior American folk."
–Beat Surrender
"Kyle Carey brought Christy Moore back into my life. Her album, a masterpiece, "Monongah" creates a deep journey for transcendance in a wounded world."
– John Shelton Ivany, jsitop21
"Kyle is a talented singer/songwriter. Her beautiful voice, and melodic songs provided a most enjoyable evening. Traveling with Craig Werth was a bonus as he is a talented musician in his own right. Together Craig and Kyle left a lasting impression on the audience. Weeks later folks are still talking about the evening and how much they enjoyed the concert. Thanks for coming to Burns!"
– Janet Braymen, Harney County Chamber Music Society 
"What is striking right now, besides the beautiful and genuine voice of Carey, is undoubtedly the successful interplay between roots music and Gaelic tradition , a combination of ingredients full of charm that makes a significant contribution to the success of the various songs. The original songwriting of the American singer-songwriter leads us into a dimension suspended between past and present."
– Blogfoolk
"An enchanting debut, young American Kyle Carey succeeded with 'Monongah'. While she grew up in Alaska, it is as a fiddle player in the Canadian folk scene of Cape Breton where she first earned recognition. She then spent some time on the Scottish islands of Skye and Lewis, where she learned the subtleties of Gaelic singing that show successfully in her talent. Carey not only wrote great songs for her debut, but received acclaimed musical support for her recording."
– Good Times Music Magazine, Germany
"Monongah is the debut release from American singer-songwriter Kyle Carey. Very quiet, almost silent, the music on Monongah and fits very well with her rich, soft voice. Carey provides a very strong debut with Monongah. It will be interesting how this musician develops. More than a fine album. Be sure to Check it out!"
– Ingo Andruschkewitsch, Musik and Sich Magazine, GE
"No ambiguity here regarding the proposed music, it is a matter of folk music with all that that entails. Kyle Carey, possesses a beautiful voice, and passion emerges from the tracks. This is folk particularly well done."
– Sur La Routes De Memphis, France
"I love her voice! I listen to the song Gaol Ise Gaol all the time! I even practice my ballet to that song it's my favorite! I'm going to get it on itunes, cd, EVERYTHING! I love all of her clothes too! (and her jewelry, hair and pictures……….)"
– Craig Werth's 12 year old niece, Hannah
"particularly beautiful, with their own songs of this young American singer- songwriter, stand by the beautiful way she knows a story in a song to be packaged. Carey is a true storyteller, and takes its musical inspiration from the Appalachians, from American folk traditions from the Celtic traditions. American stories are beautifully told here with a musical accompaniment to the history of Europe takes in all its glory. A gem of an album."
– Moors Magazine
"Kyle's charmingly delicate voice is the first thing that will capture your attention. It's the fine, happy melodies and subtle yet groovy rhythm of the accompanying instruments. It sounds American, then Celtic – country, bluegrass, American and Irish folk music, intimately intertwined. Serious stories are transported in relaxed music that becomes an expression of a very tender love of life, especially in the darkest hours."
– Michael A. Schmiedel, Folker GE
"Kyle Carey's music and voice are soft, warm, soothing and calming. Listening to her album 'Monongah' is like sitting next to her in front of a fireplace one winter evening, while snowflakes quietly strike the window panes. So close and intimate is the feel. If you like artists like Nanci Griffith, Emmylou Harris in her quietest moments, Joni Mitchell or maybe Mary Chapin Carpenter? In fact, I think Carey could fall on fertile ground even among those who appreciate Dolly Parton's most peaceful bluegrass side."
– Robert Ryttman, Countrywood, Sweden 
"The largely self-penned songs on 'Monongah' are all very beautiful, and Carey herself is a particularly sensitive singer."
– Pieter Wijnstekers, Popmagazine Heaven
"A love for traditional music is clearly evident throughout Kyle Carey's album "Monongah" and she easily evokes the windswept isles of Scotland in "Gaol Ise Gaol I" but she is in no way limited to replicating the musical past of another country. Ms Carey injects personable warmth into everything she does and, with that warmth, she defrosts the coldest of hearts (and reviewers have very cold hearts). For all its traditionalism, the lilting eloquence of "Virginia" simply soars above sentimentality and instead takes you on a journey through a past lit by sunlight but with all its shadows still duly acknowledged. 'Monongah' is an album that compels you to listen, it's as simple as that."
– Bluesbunny
"I'm in love with Kyle Carey! I've got her CD playing over and over again in my car. Can't wait to share her songs on my program."
– Bryan Kelso Crow, WSIU-FM Carbondal, IL
"Kyle came with Craig Werth and gave an outstanding performance. The songs selected were wonderful and heartfelt. Both Kyle and Craig are warm and generous with their discussion with the audience creating a nice connection. Booking and communication with Kyle was professional and timely. They spent the night with us and I only wished they didn't have to leave so quickly. We'd have Kyle and Craig back in the future and would do so enthusiastically."
– Scott Nevin, Windsor Acoustic Guitar Series
"KYLE CAREY is an American Singer/Songwriter with a clear Irish Folk approach in her music. The songs sound very natural, clean and melodic and are mostly backed up by just the Guitar and the Fiddle as well as some beautiful harmonyvocals during especially a song like "Let them be all". The music is very peaceful and wonderfully done, in typical Irish tradition, close to pure original Folk Music. That is not so strange if you consider the fact that the recording took place in Ireland and even features TREVOR HUTCHINSON (THE WATERBOYS) on Bass. The result is a calm record, but one of a very high level and despite the Irish approach, one can also call several of the songs examples of American Singer/Songwriter music and thanks to the excellent vocalwork of Kyle, this album is definitely highly recommended."
– Strutterzine, NL
"A transatlantic mix that reminds me a bit of Mary Black re-located to Kentucky via Mayo. An album with many great moments."
– Holger Brandstaedt, FolkWorld (Reviewed Twice)
"Monongah has ranked highly among critics and it's easy to see why. Coming on vocally in a manner not unreminiscent of Nanci Griffith at her peak (especially on the title track), Carey has crafted a debut release both rich and deep. If she can maintain this standard, Carey deserves to be held in the highest esteem."
– John Atkin, Folk Radio UK
"Monongah is a lovely debut album I look forward to playing again and again."
– Cherrie McIlwaine, BBC Radio Ulster
"Real life is HARD. But Kyle Carey does a good job of transporting us into lazy afternoons, visions of orange blossoms and fireflies at dusk. Her voice has a silky feel reminiscent of Alison Krauss and Grada. To be able to escape for a moment into the music that channels the power of kindness and childhood innocence is really worth your time…maybe an hour a day would be good for you. If you love original music that will stand the test of time then Kyle Carey's Monongah is for you."
– The Celtic Music Fan
"From the moment Kyle stepped onto the stage, all talking ceased. Her songs were full of passion, evident both in her voice and on her face. It was an evening to remember."
– Jan Van der Veen, Country Noord
"Kyle Carey arrives with a stunning debut album entitled 'Monongah'. She describes her music as 'Gaelic Americana'. Kyle is at home with Scottish Gaelic, but mixes this effortlessly with American folk, reflecting the massive immigration of Scots to the American continent since 1650. A debut that leaves a taste for more."
– Muziekvenster
"An alluring voice, superb playing and haunting lyrics to hook any casual listener, 'Monongah' is an album that must be experienced."
–Nicky Rossiter, Irish Music Magazine
"Kyle Carey warmed the audience with the sincerity of her music, combining her authentic 'roots' compositions harkening back to an earlier day with a voice that is most beguiling. Her songs spoke of other times and places, yet they remained comfortably familiar and right at home with her audience."
– Charlie Jordan, Colebrook Chronicle 
"The American Kyle Carey grew up in Alaska and the U.S. east coast. For her debut Monongah, she traveled to Ireland. 'Gaelic Americana' she calls her music. The Irish influences that she was looking for, are evident, but there are indeed also American roots and country perceptible."
– Long Line of Heartaches, NL
"A grand CD!"
– Campbell Cameron, Oban FM, Scotland
"Sometimes I just like to listen to music while floating on a cloud. Kyle Carey offers just the right setting to do so, with her debut album Monongah."
– John Smits, Johnny's Garden
Singer/songwriter Kyle Carey (vocals, guitar) grew up in the Alaskan forests and started to play music at High school in New Hampshire. Last year she travelled to Western Ireland to record her debut album with 10 self crafted songs. The hauntingly beautiful title song is inspired by Appalachian writer Louise McNeill, Hutchinson, O'Sullivan and Kirk create the wonderful musical background for the mesmerizing voices of Kyle and Pauline. Kyle is a brilliant singer/songwriter and with these guys on her side the debut has become one of my favourite debut albums of the year. Check her out!"
– Adolf Goriup, FolkWorld
"Kyle Carey blends Celtic and Appalachian music to tell compelling stories with her alluring and mesmerizing vocals."
– Dara Records
"Monongah features first-rate performances by Carey and a group of seasoned musicians, as well as some of the most imaginative songwriting you'll hear anywhere."
– Butch Kara, KZGM Cabool, MO
"There are times, few and far between, when a singer's voice is just perfect and when they're building an album they do the sensible thing and leave themselves plenty of musical space to show it off. Kyle Carey's debut album Monongah is one of those times. Carey draws from poetry and traditional American songs to bring an album full of contemporary folk songs that you'll struggle to dislike."
– Patrick Rose, Bright Young Folk UK
"Quite an extraordinary lady and musician, with a firm grasp on all things Celtic."
– Iain Anderson, BBC Scotland
"Kyle Carey's music is inspired by the American folk tradition. In her songs she tells little stories about the landscape, emotions, and relationships. Both Celtic and gospel influences are evident. The Celtic influence is not surprising as the whole album was recorded in Ireland and inspired by the music there. Carey's vocals are calm and gentle, yet warm and rich. A very pleasant CD."
– Mattias Gustavsson, Ikon, Sweden
"Kyle Carey takes us, with this acoustic debut, on a dreamy musical road trip that shuttles with grace between folk and more celtic oriented influences."
– Cis Van Looy, Keys and Chords, Belgium
"A bright new face to the Celtic music scene, Kyle Carey's debut album Monongah is a refreshing collection of originals which blend Carey's own Irish and Appalachian roots. Kyle explores a great many worlds within folk tradition in this promising debut record. Here's hoping there are more ideas and eagerness to come from her in the future."
– Tara Dougherty, Irish America Magazine
"Kyle Carey represents the true vision of a transatlantic artist"
– World Music Network
"This is a real gem of an album."
– Darren Beech, Folking.com UK
"Carey should probably consider a sideline in publishing short stories herself if Adenine is anything to go by, an allegory about the illusion of faith and the lie of glory as spun through the Southern gothic tale of a Rattlesnake Baptist preacher's son, sold as a revival tent attraction 'with the venom in his veins' after his father dies of snakebite. It's so good, she sings it twice. Carey calls her marriage of Celtic and Appalachian, Gaelic-Americana. She may not have actually invented the genre, but she's certainly one of its finest exponents."
– Mike Davies, NetRhythyms UK
"Monongah is a lovely treat, beautifully produced, with gorgeous arrangements, well worth checking out."
– Ingrid Henderson, Old Laundry Productions
"A much seasoned traveller Kyle's Appalachian/Scots influenced songs have an organic 'feel' that is delivered in a laid-back way that would do justice to any recent recording by Dolly Parton…minus the 'howdee' drawl if you'll excuse me being so presumptuous. Intriguing subject matter often inspired by poems from the pens of authors such as Louise McNeill (RIP) who unknowingly contributed to the title track and "Devil At Your Back" would I'm sure be proud to be represented in such a way. Like discovered treasure, you'll find this a rewarding experience."
– Pete Fyfe, Folk Music UK 
"Kyle's lyrics are those of an accomplished poet with a love of history, and her gentle, clear singing relaxes into the songs with maturity and confidence."
– Sarah Craig, Caffe Lena
"Lovely. A woman who has certainly followed her love of the language of music."
– Bruce MacGregor, Travelling Folk, BBC Radio Scotland 
"There is a real and rare elegance to the music of Kyle Carey, rich in the sounds of Appalachian poetry that has been distilled through Irish prose to give a hint of Celtic running through an album that draws a lot on American folk history. There is something in Carey's voice that almost feels at odds with the content of the songs and yet is the ideal compliment, almost like a wayward daughter being lead off the beaten track in her quest for inspiration and kindred spirits. "Monongah" a sheer delight of an album, strong songs, great muscianship and a voice that delivers free spirit."
– Neil King, FATEA
"Stand-out and already in rotation is Kyle Carey's 'Monongah', a lovely album."
– Barry Marshall-Everitt, House of Mercy UK 
"Music as it's supposed to be. Soothing music, and a sweet, enchanting voice. Well deserving of our Album of the Week feature."
– Ross MacFadyen, Celtic Music Radio 1530 AM Glasgow 
"One of the most gifted singer-songwriters I've come across in a long time."
– Mark Michaelis, WGDR Plainfield, VT 
"A lovely tone of voice and songwriting style."
– Frank Hennessy, Celtic Heartbeat, BBC Radio Wales
"This CD is easily one of the best works of acoustic music in 2011. Few artists have struck this type of chord with me with their debut release, but Kyle Carey has put together something very special with Monongah. Deftly weaving songs that shuttle between pure celtic and folk influences, Kyle binds this collection together with a rich voice and expert musicianship. I have listened to Monongah dozens of times and I still cannot decide which of these songs is my favorite. This is definitely a work by an artist destined to become even greater. I look forward to the future, but am thankful I have thiese tunes to tide me over until the next one arrives."
– Craig Huegel, WSLR Sarasota, FL
"A delicate disc that won't tire the ears, and will delight those who appreciate sweetness and melancholy."
– Le Cri Du Coyote, France
"Mesmerizingly Beautiful."
– Peter Van Zeijl, Folk En Zo
"Kyle Carey is a modern folk artist, with just the hint of an Irish accent. Her arrangements feature her beautiful alto voice and her fine guitar playing. Her songs tell stories in an Irish manner, but her subject matter is American, with particular emphasis on the South. The exception to this is one song sung entirely in Gaelic. Monongah is a town in West Virginia where a mine explosion took the lives of 362 men and boys in 1907. The song is set in a present day that is haunted by these long ago events, and Carey captures the emotions of this perfectly in her performance."
– Darius Rips, Oliver di Place 
"Monongah is a graceful disk to listen to, supported by Kyle Carey's lovely voice, with melodies that get stuck in your head. Anyone that loves traditional Irish music will appreciate this album."
– Mette Carlbom, Lira Musikmagasin
"Kyle Carey has very cleverly synthesized two different styles into her own musical language, which likely over time, will also become her trademark. Both the innovation, and respect to tradition found in Monongah compliment each other perfectly."
– Napvilág.Net
"Kyle Carey is drawn to stories, ones that may come from people who stand a bit at an angle to the immediately obvious. The title cut of her album Monongah talks of the lives of the wives and children of miners who died on an early twentieth century West Virginia mine disaster, while the rider on her Orange Blossom train sees the trip as a journey not only to warmer climes but to better times. It's a journey taken with a bluegrass country Celtic melody, too, but a very different one than the bluegrass classic Orange Blossom Special, a choice that adds depth and perspective to the tale."
– Kerry Dexter, American Landscapes in Song
"Produced by Donogh Hennessy (Lùnasa, Lumiere, Sharon Shannon Band), Kyle Carey's debut album liberally mixes Appalachian, Cape Breton and Scottish influences, and features a stellar supporting cast."
– Allan Wilkinson, Northern Sky Music Magazine
"You could be forgiven if you thought you were listening to a seasoned performer, but this is Kyle Carey's first album. Her voice is compelling and her songs have a strong narrative style, drawn from her knowledge of literature. There can be few debut releases to rival this. Kyle Carey has made her mark."
– Keith Hudson, Taplas Music Magazine, Wales
"Kyle Carey's background in folk music is richly varied, and that variety is nicely reflected on her debut album, which consists of songs that draw on the traditions of Appalachia, Scotland, Cape Breton, and Ireland. Her voice is soft but strong, and her original songs are uniformly excellent. Here's hoping for more from her before too long."
– Rick Anderson, 'Rick's Pick' CD Hotlist 
"A lovely album from an Irish American who draws influences from the Yupik of Alaska, Cape Breton, and Ireland which has been a big part of her life."
– Alf McCarthy, 'The Late Date' RTE Radio 1, Ireland
"Celtic and American folk music is the basis for the classical sound of the songs on Kyle Carey's newest achievement 'Monongah'. Her mainly acoustic music supports her lovely voice while telling interesting stories, some about real life experiences and others based on imagination, e.g. in the song 'Resurrection' which describes how the world would look like if it would have been created by a woman. This is a classic and historical folk record from an interesting and promising artist."
– Valsam, Rootstime.be


Canadian Fulbright Feature–Click here!
The Pevertt Phile–Click here!
Acoustic Harmony–Click here!
Celtic Music Radio–Click here!